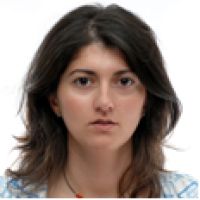 Dr. Georgia Tsoukleri is a Post Doctoral Researcher at FORTH/ICE-HT and a member of the Composites & Nanostructured Materials Laboratory, CNM, since 2004. She received her university degree in the Dept. of Materials Science of the University of Patras in 2005 and her PhD degree from Physics Department of University of Patras on the "Mechanical and spectroscopic study of reinforced materials based on graphene and model polymeric composites" in 2013.
Her current research activities lie around the production of graphene micro-ribbons and the study of mechanical properties of polymers and nanocomposites materials. She has expertise in the technical support and the preforming of dynamic and static mechanical measurements on composites materials, using simultaneously non-destructive techniques such as Raman Spectroscopy. Currently, her research interests are in thermosetting and thermoplastic nanocomposites reinforced by graphitic structures (Graphene, graphene micro-ribbons, GO and carbon fibres).
In 2013, she was trained for three months in clean room (FIRST) at ETH Zurich to use new techniques and operate several instruments in order to fabricate high quality graphene nanostructures. She has published 14 papers in international journals (total number of citations: ~400; h-index: 7) and 25 presentations in conferences and she has collaboration with A.Κ. Geim and K.S. Novoselov who received the Nobel Prize in Physics.
The publication «Subjecting a graphene monolayer to tension and compression», G. Tsoukleri, J. Parthenios, K. Papagelis, R. Jalil, A. C. Ferrari, A. K. Geim, K. S. Novoselov and C. Galiotis (Small 2009, 5, No. 21, 2397–2402), is a reference in the oral presentation of K.S. Novoselov during the Nobel Prize awards in 2010. «Graphene: Materials in the Flatland» (Rev. Mod. Phys. 83, 837–849 (2011). In 2010, she was awarded the Best Poster Presentation award in 4th International Conference "Micro&Nano2010" on Micro-Nanoelectronics, Nanotechnologies and MEMs NCSR Demokritos (Athens, Greece).