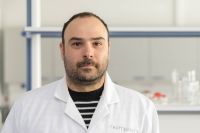 Dr. George Gorgolis is a Post-Doctoral Researcher at FORTH/ICE-HT and a member of the
Composites & Nanostructured Materials Laboratory, CNM, since 2016. He received his BSc and his MSc
from the Department of Materials Science of the University of Patras in 2009 and in 2012, respectively.
His PhD thesis was about "Synthesis and environmental aging of novel nanocomposite materials". He has
coauthored 5 scientific papers in international journals and participated to more than 10 conferences. His
current research activity is focused on the application of graphene and 2D materials for the protection of
artworks.